Upbringing and socializing of our puppies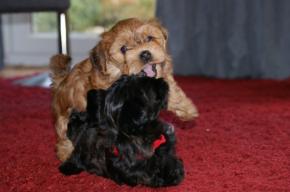 Since we as a responsible breeder attach great importance to our puppies being brought up and spend their life in such hand, we would be pleased to meet future puppy owners at an early stage.

Especially high values we set on the socialisation of our puppies. Since there is always someone in the house, they grow up completely in our family and can move freely around the flat.
This way they rapidly get used to everyday noises, belonging to a normal household. Depending on the weather, they can romp around our garden where they get in touch with many different surfaces, the lawn mower and daily outside noises.


The day after birth the puppies and their mother will be checked straight away by our veterinarian. A few days later the breeding warden of our kennel club visits, checks the environment and looks at the puppies and their mother.

The first visits to the puppies of course are made by our families. So they will learn from the beginning to get to know people young and old.

Our potential puppy buyers can visit the puppies at week 3 or 4.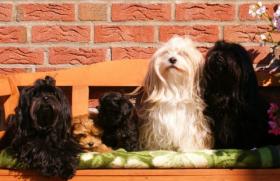 As soon as our puppies received their vaccinations, we take them for short walks and drive around in the car, so they get used to new environments.
Usually we also take the train and visit my friend and her Havanese gang. This is always a happy adventure for us and our puppies.


Breeding

Of course you will regularly receive photos of your puppy from the first weeks on.

On the day you pick up the puppies, they are vaccinated, chipped and registered on your name with Tasso. The vaccination and also the chipping will of course only be done after thorough veterinary examination and confirmation of health of the puppies.

On request we can get a DNA profile for you.

Prior to moving out the puppies will get a visit from our breeding warden again. During this visit the puppies will be looked at again thoroughly. Also it is paid attention to the appropriate upbringing and socialisation.

Puppy Package

The basic puppy package of course contains the pedigree document, the vaccination passport and copies of the medical examinations of the parents. As well as when the puppies have been dewormed a list of the next vaccinations and deworming is given.
When given away the puppies you will receive their dog food (for the first 4 weeks), treats, the favourite toy as well as puppy collar and lead from us. Also you will receive a blanket with the smell of the mother and siblings.

Your puppy is insured third party liability for the following three months with us for free.

On request we will assist you in finding the necessary grooming products, as well as a suitable transport box.

Of course we will be there for you if you have any questions after the move-