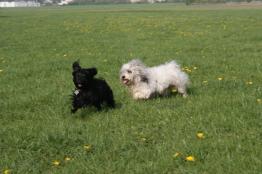 About us
About us
Our home is located in a quiet green part of Paderborn, in North Rhine Westphalia. There, our "mischief" can run riot in the garden and great outdoors from morning to night.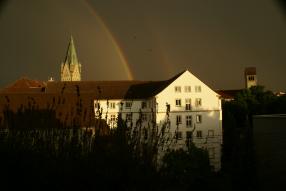 Coincidentally, we came across the breed Havanese a couple of years ago and instantly fell in love with this breed.
Because the Havanese does not shed and does not change coat, it is often recommended to potential buyers suffering from allergies.
I can only speak from my personal experience that with this breed in our family no allergy problems occurred, with other breeds however it did.

Allergy sufferers react to many substances, often to the saliva of the dog and not only to the fur. Therefore I recommend especially to those potential dog owners a prior visit. Even if there are no puppies available then.

After innumerable contacts to different dog breeders we found our Mozart. This Cuban whirlwind moved in with us in December 2007.
With Mozart our interest and the love for this breed that belongs to the group of Bichon and is also called silk dogs, increased more and more and we began thinking about a mate for him.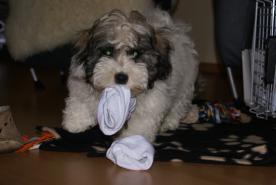 After several phone calls and conversations we found our Neele and she moved in with us in January 2009. Neele developed gorgeously. She is our absolute cuddly girl and pure zest of life. She has wonderful, silky and easy to care for coat.




Time went past and we became member of the German toy association. We visited shows with Neele, where she presented herself successfully. She was found fit for breeding in December 2009.
If you would like to meet us and this wonderful breed, you are cordially invited. It is of great importance to us to meet you as a potential puppy buyer before personally.